Deliveries and Service
At The Rock Place our delivery trucks run Monday through Friday. Please schedule in advance for Friday delivery. Normal shipping orders are within 3 – 5 days.
Delivery is available anywhere in the eastern Nebraska area. Delivery rates vary, dependent upon quantity, location, and type of product to be delivered and method of delivery. Although, we take great care during our deliveries, we enter your property at your request and risk. We will not be responsible for any damages to driveways, sidewalks, hanging trees or other obstacles that may be present. Please call us for more specific information.
For your convenience, we can now load bulk products into super sacks which can hold up to 2 tons. There is an additional fee for this service. We can deliver them on a flatbed truck along with other palletized products, and place all material as close to your work site as our machinery and your layout will allow. Bagged product may be ordered for pickup as well, but we do ask for some advance notice to bag & weigh your order.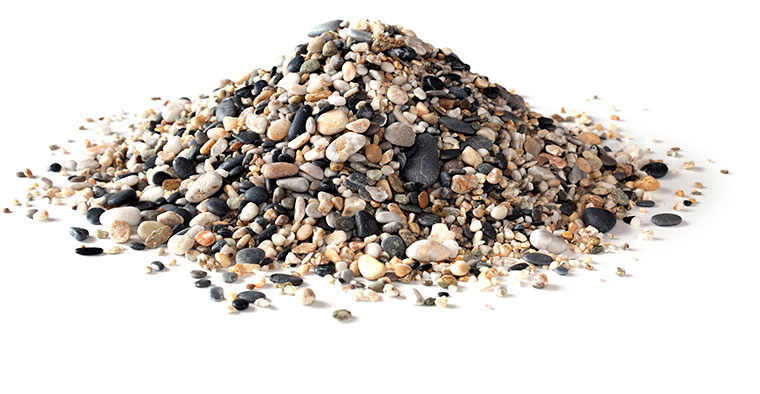 We can also provide a placement service when delivering larger boulders. There are limitations as to where we can place the products, as our Princeton forklift requires 108 inches of clearance width. For our operator's safety we cannot use this equipment on a steep incline.
Weather may affect your delivery. If you are expecting a dirt or soil product, please understand that we cannot deliver (or load) these products when they are wet. Placement of products anywhere other than curbside or in the driveway, must occur during dry conditions.
General Information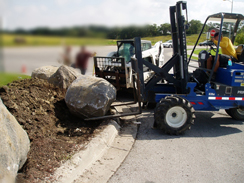 Please remember that natural stone is a product of nature! It will vary in size, color and texture. If you are looking to match material you currently have, please bring a sample with you to compare to our products. We can make no guarantees as to consistency of color or texture.
If you are picking up bulk material at our sales yard we can load your truck or trailer with a bobcat if your vehicle is loadable from the top. We will not load closed top vans through back doors or pick up trucks with lids that open less than 90 degrees from the bed. If your vehicle is not in a condition suitable for carrying the material (rusted out beds, trailers with wire beds where material will fall through it or trucks without tail gates) we cannot load you. Your safety and the safety of others on the roadway are extremely important.
For those of you who don't have a truck or trailer wanting to pick up smaller quantities of bulk product, just bring your own containers and shovels. You may purchase products in any quantity that you desire. Vehicles are loaded at your own risk. Although, our loading personnel are well trained and experienced, there is no guarantee that damage will not occur.
Our payment terms are cash and carry and we accept verifiable personal and business checks, bank debit cards, Visa, MasterCard, and Discover. Sorry….We have a NO RETURNS sales policy on bulk rock, palletized products & boulders, all sales of these products are FINAL.